SoundProof Studios Continues to Provide Quality in 2021
For years, SoundProof Studios has provided the needs of artists, voice actors and audio media professionals with superior, industry leading products for recording studios. As we head into 2021, we realize that with COVID-19 still ravaging the world, more and more people are spending time at home and indoors. This allows, many to revisit their passion to create their own home studio and get back into recording new audio.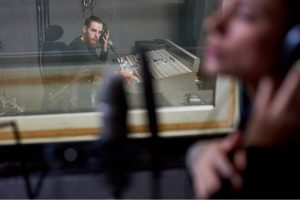 For those thinking of designing a home studio or renovating an existing one, choose the professionals at Soundproof Studios. We are at the forefront of modern, high quality recording studio design that the professionals have trusted time and again. We help the world's finest studio designers and sound engineers achieve optimal sound input and sound output conditions. Many of our clients have a preexisting space and hire us to help them optimize the sound isolation of various rooms.
Our SoundProof studio sliding glass doors, recording studio windows, and studio acoustic steel doors are top of the line and essential for any serious recording studio for optimal STC ratings to cancel out any interfering sound.
What do our STC ratings mean for you and your soundproofing needs?
For studio designers and sound engineers, we're the answer to quite a few logistics problems. Sound Transmission Class or 'STC' ratings are an established way to average how much sound is stopped by something. STC ratings are used for windows, doors, walls and most building materials. The average STC rating on the market today ranges from 33 – 47. At Soundproof Studios we offer an STC of 55 – 60 (on average) for recording studio doors and windows.
While every door is made-to-order and meet a client's exact specifications, our manufacturing times are a fraction of the competition. We get the doors clients need in record time.
What comes with our SoundProof studio Doors?
Highest STC rating of any 1.75″ thick acoustical door
Three stainless steel cam lift hinges standard
Uses off-the-shelf locksets and hardware
Wider doors for any given rough opening size
New door frame design preserves your double-wall sound isolation
Full steel, partial window, and full view glass options available
All gasketing and seals included
Fast manufacturing times
We highly encourage anyone looking to create an in-home studio to reach out to our staff of professionals for a free quote and get advice on home studio recommendations. Our staff is standing by at 1 (877) 438-7843 or you can reach out to us online here