Home Recording Soundproof Studio Doors
How Our Home Recording Soundproof Studio Doors Work
For maximum use of space combined with exceptional sound reduction, turn to our StudioMax Sliding Glass Doors. They are the industry standard and a favorite of top studio designers.
Our unique design uses dual sliding glass doors mounted on each side of your door frame to give you exceptional sound isolation. The recording Soundproof studio doors can be mounted in a variety of configurations according to your recording studio door opening. As there is no space consumed by door swing they use a minimum of space.
These sliding glass doors are available in multi-panel telescoping configurations. This can allow huge opening widths for moving large equipment in and out, without removing any door panels.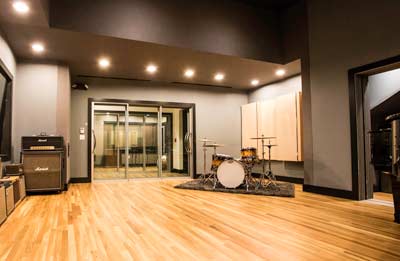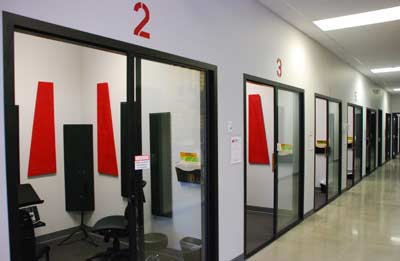 Home Recording Soundproof Studio Sliding Glass Door with High STC Values
With our recording soundproof studio doors you can achieve high STC values, a feat which was not previously possible. Now you can use our recording soundproof studio sliding glass doors and get a higher STC than most solid doors.
When you are recording, it is crucial to keep the sound at a minimum. Any sound, even something as small as a dishwasher running or an HVAC fan, can contaminate your music. In a recording studio, doors can be the largest source of a sound leak. Standard hollow core doors even with seals around the perimeter are extremely poor at preventing bass. Our soundproof recording studio doors are superior in blocking sound wave energy and noise.
If you mount our recording soundproof studio sliding glass door over a swing door (which can be done if the door swings away from the sliding glass door) you can improve the overall STC values and see into the recording studio area until just before you close the swing door to record.
Benefits of Our Home Recording Soundproof Studio Doors
No swing in or swing out obstructions into the recording studio area

All recording soundproof studio door panels are removable, so you can utilize the full door opening width when needed

Audience viewing easily accommodated with our recording soundproof studio doors
Recording Soundproof Studio Door STC Results
Using two soundproof doors we achieve an STC of 65. Our recording studio brochure details how dramatically our recording soundproof studio doors block the low frequencies (40dB @ 80 Hz).
Find Out More About Recording Soundproof Studio Doors
Contact us today to request a free consultation on your recording studio soundproofing needs.