Unbeatable Sound Reduction, Guaranteed
Soundproof Studios is a leading provider of quality soundproof window and door solutions for recording studios worldwide.
We were the first to offer both fixed and operable recording studio windows with STC values in the 60s. Our sliding glass doors were the first to offer an acoustically viable solution that not only stops sound, but offers significant space savings. We were the first company to offer standard 1.75″ thick steel acoustic doors with STC values above 53.
A key component has been the use of laboratory testing to validate each design innovation. Extensive independent tests show conclusively that Soundproof Studios recording studio windows and doors are the most effective in the world at blocking sound.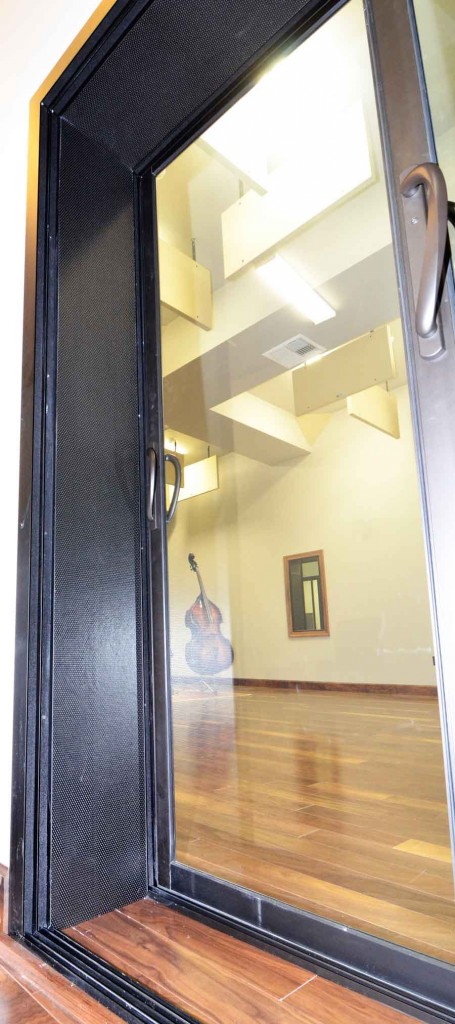 Other manufacturers offer two hinges as their standard. Our standard is three heavyweight capacity cam lift hinges. The result is a more reliable, longer lasting studio door.
Our special design gives you a wider clear door opening in the same sized space. On average you'll find our doors are 3" wider than other manufacturers when using the same sized rough opening.
Custom Soundproofing
While every door is made-to-order and meet your exact specifications, our manufacturing times are a fraction of the competition. That means you get the doors you need, fast.
Highest STC rating of any 1.75″ thick acoustical door
Three stainless steel cam lift hinges standard
Uses off-the-shelf locksets and hardware
Wider doors for any given rough opening size
New door frame design preserves your double-wall sound isolation
Full steel, partial window, and full view glass options available
All gasketing and seals included
Fast manufacturing times
Every door and window in our studio line is custom made to order. That means you have maximum flexibility in your designs. Each piece is delivered to your precise specifications so it integrates perfectly in your construction plans.
Please contact us for any question you have or to receive a free estimate:
Soundproof Studios
Soundproof Windows, Inc.
4673 Aircenter Circle
Reno, NV 89502
Phone: 1.877.438.7843
Direct: 1.775.829.8900
Fax: 1.877.226.4063
Email Address: sales@soundproofwindows.com