Home Recording Studio Basic Requirements
We at Soundproof Studios value details and performance. Both are required to produce exceptional music. In this article we'll discuss what pieces of equipment will be helpful to budding home studio recording artists. We'll also discuss what you can do to the room you plan to record in to make it more conducive to recording music.
Which Equipment Do You Need to Record Voices and Instruments?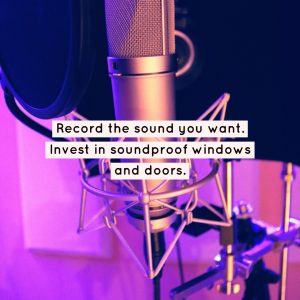 Musicians, sound aficionados, and sound engineers don't often agree about what the essentials are for recording music. Many of us tend to favor different types of sound and different types of recording. Following is quick list of materials that will aid beginners in learning the craft of recording sound.
A decent computer – You want a computer that can easily run your mixing software. Many computers produced in the last few years should be sufficient to get you started.

Mixing software coupled with an audio interface – You'll want a software program to record, edit, and mix music on your computer. You'll also need the audio interface to connect the input of music to your computer.

Two microphones – Get yourself a large diaphragm condenser microphone for vocals and a smaller diaphragm microphone for instruments.

Closed back headphones – These will allow you to isolate the sound you hear in the headphones.

Studio speakers – Speakers of this type have a flatter frequency which will allow you to assess the music in a more objective way.

One XLR cable and two short XLR cables – Use the long cable for your microphone and the two short cables for your speakers.

Invest in a solid mic stand – You can make due with a weak stand, but you'll thank yourself for investing in a quality stand.
Which Equipment Do You Need to Enhance the Acoustics of a Room?
Anyone looking to record music in their home should consider what exactly they want to record. Do you want to record the neighborhood kids playing soccer on top of the lyrics that you painstakingly wrote? Do you want to hear the pitter patter of your dog's footsteps on your hardwood floor as you prepare for that epic intro?
Generally, you want to acquire as much acoustic soundproofing as possible to ensure that you are only recording what you want, i.e. the music. Recording studio equipment is designed to capture as much sound as possible. One of the unfortunate consequences of such sophisticated sound capturing is that you end up capturing sounds you don't want.
You can better ensure that you only capture the sounds that you want with studio sliding glass doors, recording studio windows, and studio acoustic steel doors. These pieces of equipment are investments and cannot just be purchased at Walmart or Home Depot.
Investing in the room that you use to record your craft isn't just a luxury expense. Soundproof windows and doors will better insulate your home and can save you significant money when it comes to heating and cooling. It may take some time for the insulation savings to pay for the doors and windows, but don't all worthwhile things take some time to see the benefits?