Recording Studio Windows and Doors at the Right Price
A recording studio should use a combination that blocks out external noise and absorbs excessive ambiance to create an environment that will be music-friendly. Like we offer at Soundproof Windows, Soundproof Studios offers studio sliding glass doors as well as recording studio windows and doors. We offer the highest STC rating on the market for recording studio doors and windows at 65, making our doors as good as many recording studio walls while still solving the same problems.
When details and performance matter, Soundproof Studios is the best choice when choosing acoustic soundproofing solutions. As a company that sits at the top for STC ratings, premier door and window solutions for acoustic soundproofing is our specialty. Recording Studio windows and doors should not cost a fortune. We firmly believe that and want to make sure our customers get just as much joy out of our Soundproof Windows product line as they do our Studio Soundproofing product line.
Soundproof Studios wants to help you truly explore a new world of design possibilities for your acoustic soundproofing needs, and the best part, this consultation is FREE.
Acoustic design consulting and custom manufacturing have made Soundproof Studios the number one choice for musicians, podcasters, voice actors and sound engineers alike. Soundproofing your recording studio is more than a priority, it's the whole point! Artists need a place to express themselves without interruption, and outside noise that creeps in through your windows and walls can really throw off a performance.
Our unique recording studio door design uses dual sliding glass doors mounted on each side of your door frame to give you exceptional sound isolation. The recording studio doors can be mounted in a variety of configurations according to your recording studio door opening. As there is no space consumed by door swing they use a minimum of space.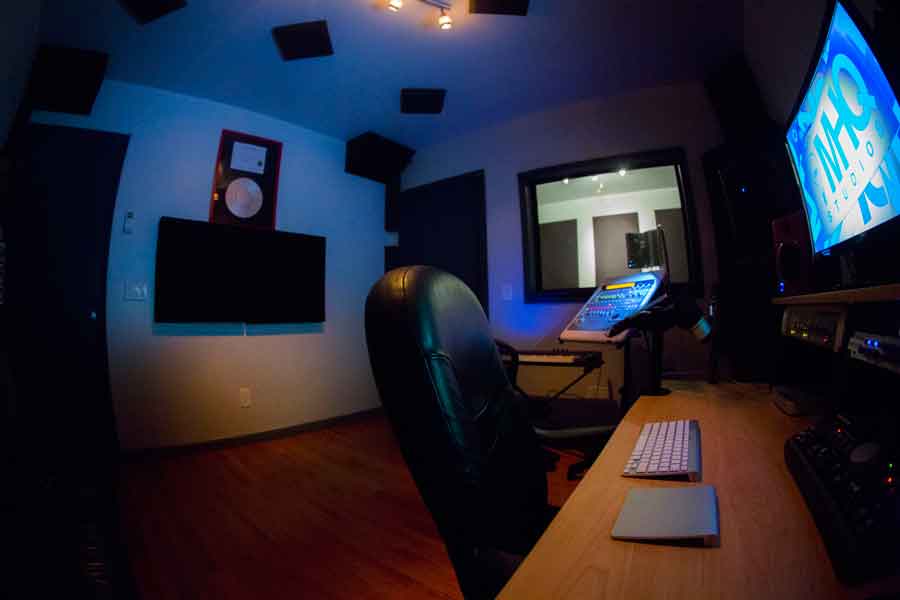 But how about your recording studio windows you ask? Our sound studio windows consist of two independent fixed windows on each side of your window opening. Each window can be installed vertically or slanted, your choice at the time of installation. Our recording studio windows achieve an STC value of 64. All of our soundproof studio windows and doors use laminated glass rather than dual pane glass, which is never a good noise reduction glass configuration. Our laminated glass is custom made for our 0.650 inches thick soundproof windows. We also use 0.250-inch thick laminated glass. One or both of the sound studio windows in the opening will have the special 0.650-inch laminated glass.
If you are in the process of designing a recording studio or any room where sound isolation is critical, you have come to the right place. We can help you create the ideal door and window solutions for the design of the studio and the space available.
Contact Soundproof Studios today and let us help you create the recording studio of your dreams.