Professional At Home Recording Studio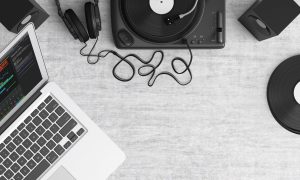 Building a studio always requires a certain amount of work. It often involves reducing the existing dimensions as you put in double walls, floating floors and extra ceilings in an attempt to isolate the recording space from the surrounding structure. Some rooms are more suitable for a recording studio than others. Rooms with low ceilings, wood floors and parallel walls do not produce the greatest sound.
Home Recording Studio Essentials
A professional can help you determine which room would make the best recording studio and what action to take to create the best sound. Soundproof Studios design consultants have the experience and skill to help you sort out your best choices when designing your recording studio. If you are going to build or remodel the use of a professional or consultant is a terrific investment.
If you are in the process of designing a recording studio or any room where sound isolation is critical, a well-designed room can make all the difference. Soundproof Studios can help you create the ideal acoustic door and recording studio window solutions for the design of the studio and the space available.
We'll help you explore the new world of design possibilities. Contact us today to request a free consultation on your recording studio soundproofing needs.